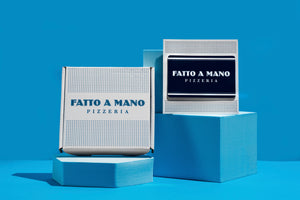 Our gift cards come in their own mini pizza box, and can be used in any of our places, Fatto a Mano and Fatto Pizza & Beer. Give the gift of pizza! 
Please allow up to 5 working days for your order to arrive to the delivery address. All values on the card must be used by the expiry date (24 months from the date of purchase). Cards cannot be refunded or exchanged for cash, any remaining balance will be stored on the card and can be used to pay for future purchases.

Please protect and treat the card as cash, if lost or stolen, it cannot be replaced.

This is not a credit, debit, charge or cheque guarantee card.